The Best Options for all levels
Receive your PADI license in the Caribbean!
Santa Marta is home to some of the best diving in South America and one of the cheapest places to dive in the world. No matter what your experience is there is a course for you. The courses and dives are available in Spanish and English and are led by professional PADI instructors and PADI Dive Masters.
Ready for adventure?
Here are the options available to visitors of all levels.
Discovery Scuba Dives are designed for people who haven't tried diving and want to test the water. It is a one day course where the instructor will inform you of the effects of diving on our body and some safety recommendations. He will teach you how to wear and use the dive gear and then you practice breathing in shallow water. You will then try the deeper waters in the beautiful Tayrona Park. Snacks included.
Starting time: 8:00 a.m. Departure from hostel: 7:15 a.m. in taxi or bus. Cost: 210,000 COP
The PADI Open Water Diving course gives you the certification to dive in the same conditions in every place in the world at 18 mts depth. Snacks included, and photographs!
Starting time: 8:00 a.m. Departure from hostel: 7:15 a.m. in taxi. Cost: 650,000 COP + $61 USD for license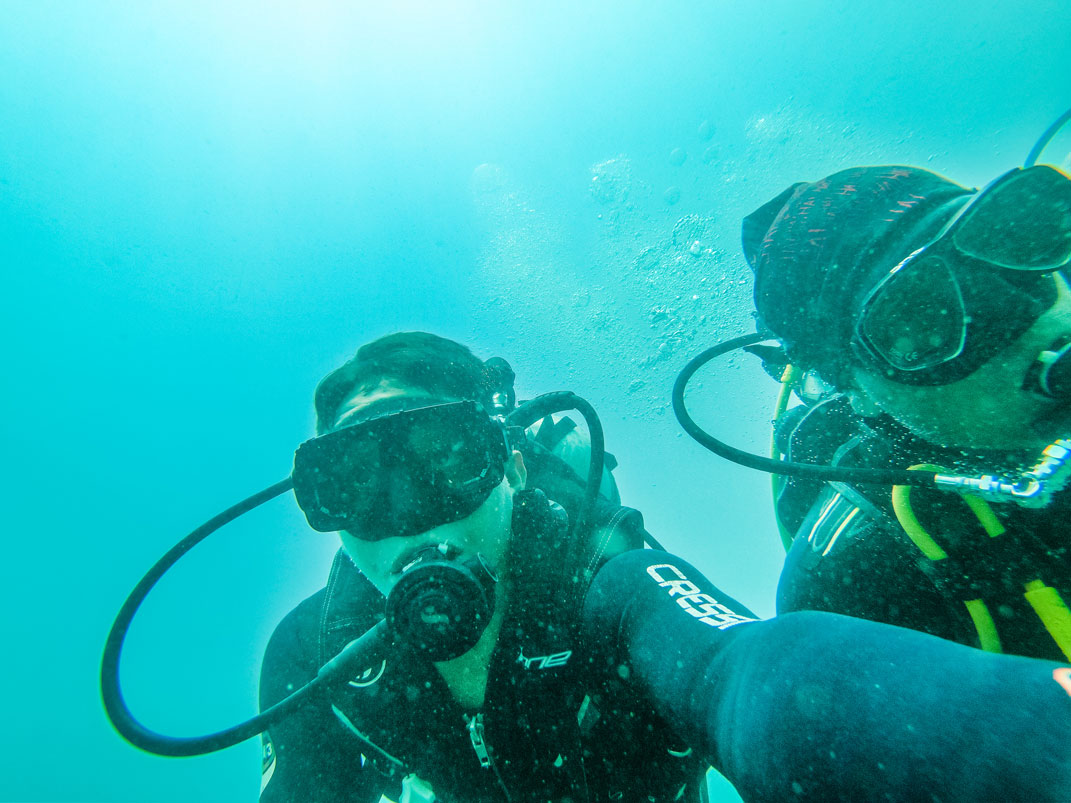 Fun Dives go every day, sometimes three trips per day (morning, afternoon and night). This trip is for certified divers. The dive site depends on the certification level and weather conditions (tides, waves, visibility, etc). Groups are kept small to ensure a personalized service. Snacks are included.

Starting time: TBD. Cost: 180,000 COP
Frequently Asked Questions
What's the best way to get certified?
The trek is not considered dangerous. Colombia's safety conditions have improved within the last couple of years and visitors should not worry about danger while visiting Colombia or hiking to the Lost City. Just like along any trail, hikers are encouraged to wear closed-toed shoes and watch where they are walking to avoid accidents or injuries along the trail.
Are there any discounts if I am in a group?
No, visitors cannot hike to the Lost City alone. Every group or person must be accompanied by a local guide. This is a government regulation to ensure hikers don't get lost along the trail. This rule is also to help ensure hikers do not disturb the indigenous people who live in the area or the delicate ecosystems of the Sierra Nevada of Santa Marta.
What if I have a pre-existing health condition?
Expect the weather to be extremely humid in the daytime. The average high temperatures hover between 70 and 75 degrees Fahrenheit (21 to 23 degrees Celsius) throughout the year. The nighttime cools down a bit with temperatures ranging between 57 and 62 degrees Fahrenheit (13 to 16.5 degrees Celsius) throughout the year. December through March generally has less rain, but you should still expect afternoon showers throughout the year.
How far in advance should I reserve my dive?
It can take anywhere from 4 to 6 days from the start of the trail (called El Mamey) to reach the Lost City, then return to the starting point. For visitors who want to hike at a slower pace and enjoy the scenery, choose the 5-day option. If you are short on time or want to spend a day exploring a different part of Colombia, expect to walk faster and farther during each leg of the trip.
Is there insurance?
It's always best to know a couple of Spanish words while visiting Colombia, but you do not need to know Spanish to enjoy a Lost City Trek. Your tour guide will speak English and Spanish and assist travelers if translation is needed. For information on Lost City treks led in other languages besides English and Spanish, email gerencia@thedreamer.co.
Where can I store my bags?
You can take a Lost City trek any time of the year except September, but consider going during the drier months between December and March. May and October usually see the most rain, making it a bit more challenging to hike because of the mud and downpours. No one is permitted to do the Lost City Trek in the month of September because this is the time local indigenous people take care of the area as part of sacred tradition.